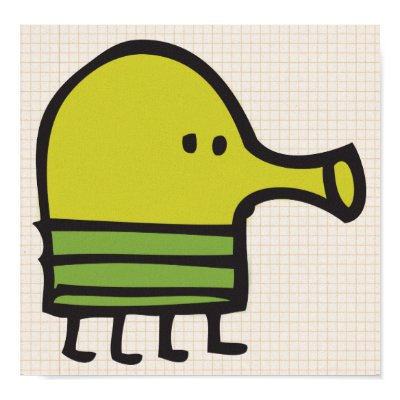 So I was going through my touch flipping through applications the other day, when I came across it.  Doodle Jump.  For those of you who don't know what Doodle Jump is, it's an insanely addictive game where you move a little Doodler as he jumps from platform to platform, evading obstacles and monsters, to try and climb to a new highest score.
The game always ends with you reaching the inevitable frustration of watching your little Doodler plunge to his doom as you let out a, "Noooooo"…and then play again.
The thing is, I haven't played this game in months.  At one time something that was so addictive and exciting has lost its allure.
I sat there wondering why my mind wasn't interested in jumping through Doodle Land anymore.  I knew the appeal was gone as I sat there playing a game, just waiting for it to be over. (Well, actually I have to admit I still break this out from time to time.) But it was no where near as exciting as it once was.
And it dawned on me that the game just got to be monotonous.  What were once exciting challenges turned into redundant expectations.  The flow of the game had been lost because there were no new difficulties.
What I learned from Doodle Jump is that life without challenge becomes boring.  Entertaining new challenges and ideas would mean your considering doing something you did not think possible. Otherwise we get caught up in the rut of reaffirming what we already know we can do instead of trying out new ways of being.
Think about it.  We may enjoy when things become easy.  But overtime that enjoyment will transform into boredom.  A skier will get bored riding down the same green circle slope. They have acquired new skills and what once tested their abilities and gave them excitement now only gives a fraction of the happiness it used to.
A tennis player, will not enjoy hitting with someone who is well below their skill level as they would with someone who slightly surpasses it.  An avid reader will not get the same enjoyment from those 3rd grade picture books (Well, there are always exceptions!) But you get the picture.  (Pardon the pun)
New challenges are not something that should be avoided, but embraced as an opportunity for learning and improving skills. In Mihaly Csikszentmihalyi's (Try pronouncing that one) Flow, he found that when challenges and skills were both high, people felt more cheerful, active, creative, and satisfied.
I have reached many points in my life where I have felt dissatisfied in something that once was a great source of joy.   Exercise seems to be the most redundant one.  I would try to just push through the resistance, but it was only making matters worse.  It was like forcing myself to play Doodle Jump for an hour each day.
It wasn't until I started thinking about exercise in new ways, breaking free of my routines, and doing different genre's of activities that I really got back into the enjoyment of an active lifestyle.  Swimming, hiking, sprinting, rock climbing, dancing, have all been new challenges and new levels of excitement.
I started hitting a wall with my blogging as well.  I was really starting to dread it.  I tried to be so methodical and precise in my posts that they lost their enjoyment. Now I try and take personal stories and examples and just talk them out.  Much more exciting because I don't search for the ideas, I just live out my life, sit on my porch play some Doodle Jump, and then write a post on that!
I challenge you to challenge yourself.  It might just break the barrier of boredom you've been chronically hitting against.
https://www.buildingteams.com/wp-content/uploads/2011/08/lesson-learned.jpeg
668
1000
admin
https://www.buildingteams.com/wp-content/uploads/2019/12/Building-Teams.gif
admin
2011-08-08 15:42:00
2019-10-01 15:02:22
The Lesson I Learned from Doodle Jump